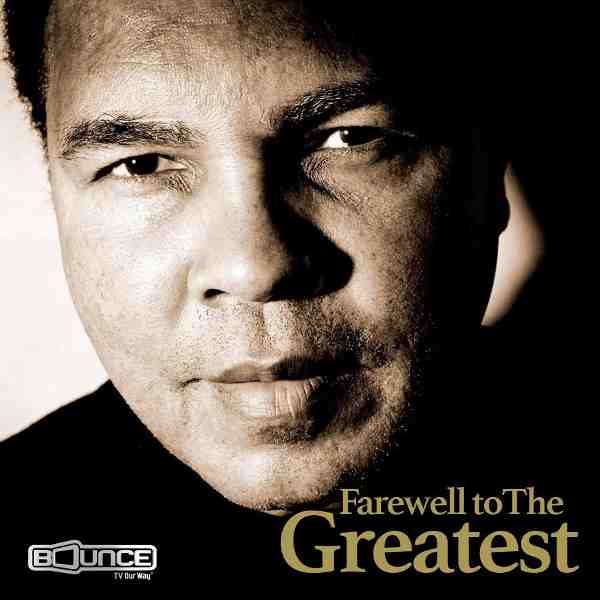 Bounce TV will carry Muhammad Ali's farewell procession through the streets of Louisville and his memorial service live, uninterrupted and commercial-free this Friday, June 10.
Bounce TV's coverage will begin at 9:00 a.m. ET with the procession, which will take Ali on a final journey through his hometown of Louisville, passing memorable landmarks in his life, including his childhood neighborhood and the Muhammad Ali Center.
Bounce TV will also air the memorial service scheduled for 2:00 p.m. ET, which will include eulogies by President Bill Clinton, Bryant Gumbel and Billy Crystal.
Bounce TV will partner with its Louisville affiliate WAVE-TV, owned and operated by Raycom Media, for the special event, airing WAVE's local hometown coverage and insight nationwide.
[ Universal Pictures Presents I Am Ali ]
Between the procession and the service, Bounce TV will present The Greatest, the 1977 motion picture in which Ali stars as himself.
A dramatization of Ali's life, The Greatest begins with Cassius Clay winning gold at the 1960 Olympic Games and then follows his victory over Sonny Liston, his conversion to Islam and name change, Ali's refusal of the military draft on religious grounds and subsequent nearly four-year long court battle to fight again.
Ali wins the legal victory and then returns to the ring and takes part in what many consider some of the greatest boxing matches of all time.
Bounce TV will also include several special tributes to Ali and his impact on boxing throughout the telecast of Premier Boxing Champions – The Next Round Sunday night, June 12 starting at 9:00 p.m. ET.
Bounce TV is an African-American (AA) TV network. Among the founders of Bounce TV are top American figures Martin Luther King, III and Ambassador Andrew Young.
Photo courtesy: Bounce TV