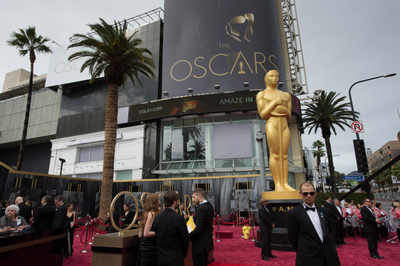 Academy and Oscars News 2014-15
Click here for the latest Academy and Oscars News 2015-16
The Academy of Motion Picture Arts and Sciences is the world's preeminent movie-related organization, with a membership of more than 6,000 men and women working in cinema.
In addition to the annual Academy Awards – in which the members vote to select the nominees and winners – Academy presents a diverse year-round slate of public programs, exhibitions and events.
It also provides financial support to a wide range of other movie-related organizations and endeavors. Moreover, the Academy acts as an advocate in the advancement of motion picture technology.
Our RMN Stars site covers the Academy activities regularly providing the related news and views to our readers all across the world.
This page on RMN Stars serves as an information hub for the Academy- and Oscars-related information.
Here are the stories for 2014-15:
"The Oscars Backstage" to Stream Live on Facebook
Academy Invites Seven Social Media Artists for the Oscars
Oscars Opening Ceremony: Live from the Red Carpet
Oscar Winners Return as Presenters at 87th Oscars
Brit Phenom Rita Ora to Perform at the Oscars
Margot Robbie and Miles Teller to Host Academy's Sci-Tech Awards
How PwC Handles the Oscars Balloting Process
Oscars Nominations Announced: See Complete List
Academy to Announce Oscar Nominations Live
114 Original Scores in the Oscar Race
9 Foreign Language Films Advance in Oscar Race
Filmmakers Invited to Submit Video for "Team Oscar"
7 Features in Race for Makeup and Hairstyling Oscar
79 Original Songs Vie for 2014 Oscar
Academy Announces Oscar Host Neil Patrick Harris's Writing Team
10 Films to Compete for the Visual Effects Category of the Oscars
15 Documentary Features Advance in 2014 Oscar Race
10 Live Action Shorts Advance in the Oscar Race
Meet the 87th Oscars Production Team
134 Documentary Features Submitted for Oscar Race
10 Animated Shorts to Compete in the 2014 Oscar Race
20 Animated Features Submitted for Oscar Race
Neil Patrick Harris to Host the 2015 Oscars
83 Countries in Competition for Foreign Language Film Oscar
Academy Announces Winners of Screenwriting Competition
Academy's Tech Council Adds 4 New Members
Reginald Hudlin to Produce Academy's Governors Awards
What Is the Role of Costume Design in Cinematic Storytelling?
Academy Announces Governors Awards for Top Filmmakers
Academy Celebrates 40th Anniversary of Young Frankenstein
Academy Considering Oscars for New Categories
Cheryl Boone Isaacs Re-Elected Academy President
How Hollywood Takes to the Air at the Academy
Academy Presents Beau and Jeff: A Tale of Two Bridges
Dolby Donates $12 Million to Academy Museum
The Academy Elects New Board of Governors
The Academy Probes "Movies in Your Brain"
Academy to Premiere "It Happened One Night"
Academy Presents Hollywood Costume Design Exhibition
Academy Announces Submission Dates for Oscars
Academy Announces New Rules for the 87th Oscars
Behind the Score: The Art of the Film Composer
Academy Invites 271 Filmmakers to Membership
Campaign Regulations Announced for 87th Oscars
Academy to Screen Festival Favorite "Snowpiercer"
Academy Presents Top Arab Films from Dubai Film Festival
Academy Screens – Whitey: United States of America v. James J. Bulger
Academy to Host Live Commentary for Napoleon Dynamite
Join the Oscar Celebration with #MyOscarPhoto on Twitter
The Oscars to Stream Live on WATCH ABC
Craig Zadan and Neil Meron to Produce the 2015 Oscars
Academy to Deconstruct Oscar-Winning Film Gravity
Deconstructing Gravity: Did the Film Deserve the Oscars?
Academy Announces Key Dates for the 87th Oscars
Academy Color Predictor Launched for Filmmakers
Academy Announces 2014 Student Academy Awards Finalists
Academy Presents Medals to Student Academy Awards Winners
How Oscars Are Losing Their Sheen
Academy Launches Its First Digital Video Series "Academy Originals"
Photo courtesy: Academy of Motion Picture Arts and Sciences